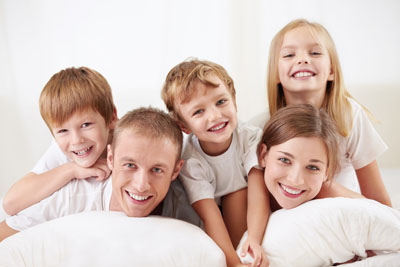 As a family dentistry office, we invite you to schedule a dental check-up for twice per year. If you have not been to the dentist in a while, it is of critical importance that you schedule an appointment as quickly as possible. Teeth are a marvelous thing. They provide the ability to speak clearly, to bite into foods and enjoy your favorite meal, and to smile with confidence. They even provide the stimulation your jawbone needs to maintain its structural integrity and the shape of your face. Without your teeth, your life and appearance would be very different.
Still, most people do not think about their teeth unless they get a toothache. This lack of thought is what often leads to inconsistent dental care and oral hygiene, cavities, infections, and eventual tooth loss. As a dentist, we understand how tooth loss can negatively impact our patients and our goal is to prevent it whenever possible. This is why you should have a checkup and teeth cleaning twice per year.
What we do in our Portland dentist office during a dental checkup:
Examine your teeth.
When you visit our family dentistry office, we will examine your teeth and gums to determine if we see any signs of decay, infection or gum disease. Our goal is to identify, catch and treat these conditions early before they spread and before they cause you any discomfort. This is beneficial for you because the earlier a cavity, for example, is treated the less likely it is that you will get a toothache.
Clean your teeth
We will use a special abrasive paste and our dental tools to thoroughly clean your teeth. This allows us to remove the plaque and tartar that have built up over time. Even if you brush regularly, it is entirely possible that you will develop plaque due to places being difficult to reach. The more often your teeth are cleaned in our family dentistry office, the less time plaque will have to secrete its acid that attacks your teeth and leads to oral health problems.
Check for cancer
Oral cancer is something that most people do not consider. However, it kills one person in the United States every day. When you come in for a dental check-up, we will look for common signs like red and white bumps, hard lumps, rough patches, and changes within your mouth. If we think that you may be showing signs of cancer, we can refer you to an oncologist for further testing and treatment.
Preventions
We are also focused on prevention in our family dentistry office. If the chewing surfaces of your (or your child's) teeth are particularly deep, it will be easy for food and plaque to become trapped there, even if you brush your teeth on a daily basis. We can brush dental sealant onto the surface of your teeth so that nothing can become stuck there. This will reduce the likelihood of you developing cavities in this portion of your tooth.
---
Related Posts
September 27, 2019
Finding top-quality family dental care is one of the most important health decisions a household can make. Depending on the health levels of each family member, as well as ages and experience with dental professionals, …
---